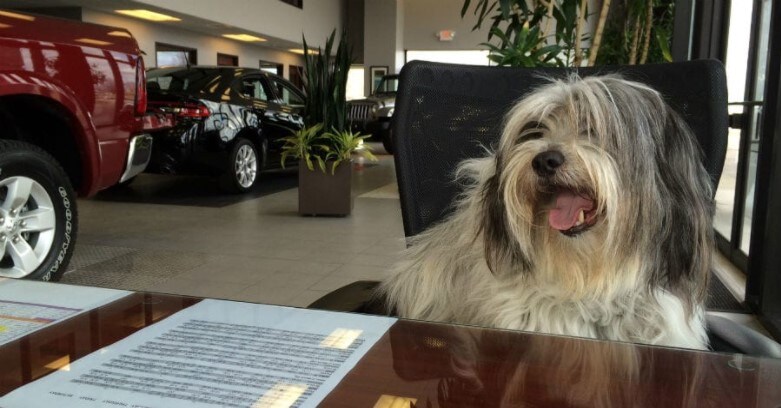 Otis won't take you for a ride, but he might steal your lunch.
---
We think that the more you know about Planet, the better we look. So we're eager to let you know all about us and our unique approach. There's no disinfectant quite like sunlight.
Most dealers do not share our enthusiasm for transparency. In fact, the typical dealership separates you from your money by separating you from the truth. Some of their techniques:
Asterisk pricing. This is perhaps the most common among Chrysler Jeep Dodge Ram dealers. How it works: Typical dealer advertises an unbelievable price that is reduced by a variety of rebates, not all of which apply to you. They write in fine print that you may not qualify for all the rebates. Here are some examples of the programs that may or may not apply to you. Show up at the dealership and they "put you on the elevator." Another variation on the trick is advertise a price that requires cash down or a trade to get the price.
Bait and Switch. How it works: Typical dealer puts an unbelievable price in an ad, but provides the stock number for only one vehicle. When you show up, the car "just got sold." Of course! The one that's just like it is going to cost you thou$ands more.
Model Misrepresentation. How it works: Typical dealer uses a picture of a premium model but the price for the base model, or fails to disclose that the car does not have an automatic transmission when nearly every one buys an automatic (over 90% of cars sold in the United States have automatic transmissions. If you exclude sports cars, it's close to 100%.)
Low Ball. How it works: Typical dealer advertises at a price or quotes a price that does not represent the final price of the vehicle. For example, all manufacturers charge dealers a destination charge, which we all have to pass on the purchaser. These are in the $600 to $900 range. The typical dealer advertises or quotes the car without it, and doesn't disclose it until the last minute, when you try to take delivery of the car.
High Ball. How it works: When you tell the typical dealer about your trade, they don't give you a range in good faith, but rather tell you an unbelievably high price (perhaps found on Kelly Blue Book or Edmunds) that they have no intention of honoring. When you show up, they make various deductions so they can justify giving you a lower price.
Poisoning the Well. How it works: After you make the mistake of visiting a typical dealership and they fail to pressure you into a car, they walk you out the door with an impossible price so when you go to an honest dealer, there is no way for the honest dealer to match the price that you think you were offered. If you fall for the trick, you go back and they get another shot at you, even if they have to tap dance to explain why they can't give you the price they say they would.
Why do dealers do these deceptive practices?
It works on enough people. We see it every day, from people you would expect to know better. Some people are seduced by the temptation of visiting these stores even though they know in the back of their minds that the deals are too good to be true. Some people will suffer any indignity to think that they saved money on a car (even if they end up paying more). And once there, after they've been beat up for a few hours, they just want to get the grueling experience finished, so they do business with unsavory characters. And the bad guys get rewarded with your profits.
What are these typical dealers thinking when they use these tricks?
Nowadays, on average, car purchasers visit fewer than two dealerships when they buy a car. So, if they can lure you in, that means the bad guys have a better than 50% chance of selling you a car. Once they get you in, their salesmen are trained to "put you on the elevator"….to get you to forget about the ad car and pay more for another car.
How do dealers get away with all of this stuff? It can't be legal.
Federal and Massachusetts laws are pretty explicit about the illegality of deceptive practices in car dealerships. But drunk driving is illegal too, and a lot of people get away with it because governments can only afford to put so many police officers on the road. In Massachusetts, the attorney general enforces advertising laws, but her resources are quite limited. Many dealerships just pay the attorney general's fines and consider it a cost of doing business.
So how do I protect myself when buying a car?
All dealerships are not created equal, so stay away from typical dealerships. It's not a fair fight when the deck is stacked against you, so go to a dealership where there is no fight and the deck isn't stacked against you. At Planet, for example, we've built our entire business model on the assumption that you'll come back again and again to be treated with dignity. We intentionally hire our Purchase Partners from outside the car business, so you'll never get the typical dealership treatment at Planet. Learn more about what makes Planet special.