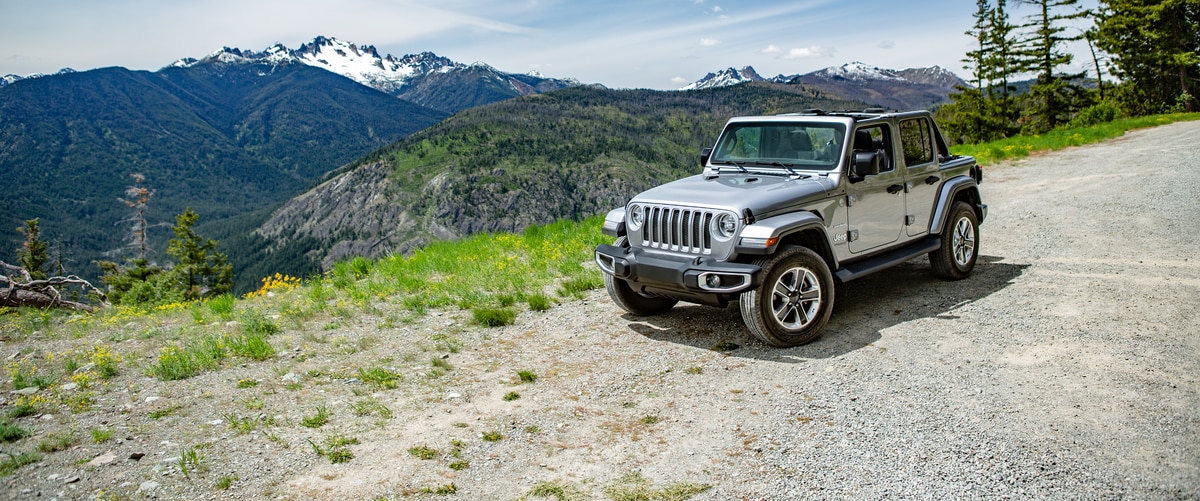 Which Engine Should I Choose for my Jeep Wrangler?
Back in the 2020 model year, Jeep made a realignment of engines for the Wrangler.  The optional engine, the 2.0L Turbo, became the standard engine for all models with automatic transmissions, while the 3.6L V6 became the standard engine only for the 6-speed manual transmission--and optional for those who chose an automatic.  There were two versions of each engine, mild hybrids with belt-start generator, and 'standard' engines without this feature.  The mild hybrid engines were available only with automatic transmissions and only on Sahara models.
For 2021, Jeep has simplified the lineup, so it doesn't matter which model you choose, the engine/transmission combinations are the same throughout all models.  The mild hybrid eTorque version of the 2.0L Turbo has been discontinued. If you choose the six-speed manual transmission, you get the 3.6L V6 without the eTorque mild hybrid system.  If you want an automatic, the standard engine is the 2.0L without eTorque.  Optionally you can choose the 3.6L V6 with eTorque or the 3.0L EcoDiesel.
Also for 2021, Jeep is adding a 4Xe model PHEV (plug-in electric hybrid).  It's late availability, arriving around December 2020.  This powertrain which they refer to as 2.0L i4 DOHC DI Turbo PHEV*, produces 375 hp and 470 pound-feet of torque.  It has a 400 mile range and will go 0-sixty in 6 seconds.  It will go 50 miles on a charge, allowing many people to get to work and home every day without using any gas at all.

* 2.0L (litre) DOHC (dual overhead cam) DI (direct injection) Turbo PHEV (plug-in hybrid electric vehicle. 

See the chart below for engine specifications for each option:



3.6L V6 24V VVT eTorque
(non-eTorque with manual)


2.0L I4 Turbo
ESS

3.0L EcoDiesel  

Wrangler 4XE

Horsepower


285
270
260

375

Torque (lb-ft)


260
290
442

470

EPA Estimates
City/Highway/Combined


18/23/20 Auto
17/23/19 Manual
22/24/22
22/29/25

50 MPGe


Manual Available?


Yes
No
No
No

Normal Driving Range
1 Gallon Reserve Using Combined EPA


400 miles
380 miles manual

440 miles

513 miles

400 miles

Cost


Standard with manual,
 $1750 with auto


Standard engine for Auto Trans


$4500

$2,500-4,500 depending on options chosen and packages

Towing Capacity


3500 lbs.

3500 lbs.

3500 lbs.

3500 lbs.

0-60 Acceleration


7.0 seconds (auto)

7.0 Seconds

7.5 Seconds

6.0 seconds

Fuel Required


87 Octane

87 Octane
91 Rec. for Certain Conditions

Diesel
87 Octane
 91 Rec for Certain Conditions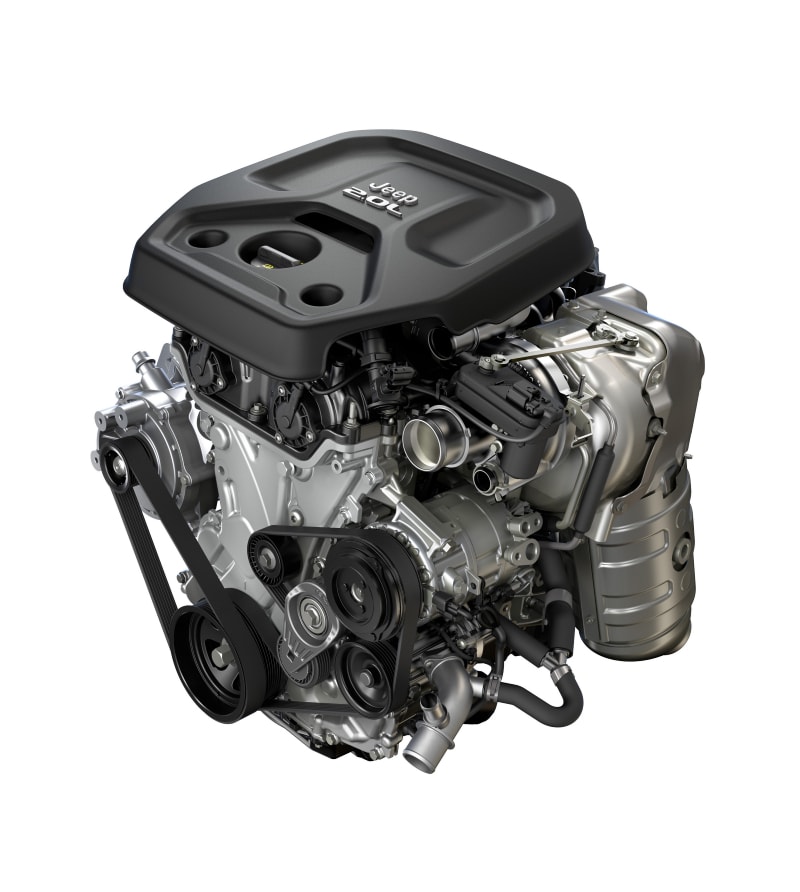 Of course, if you want a manual transmission, your choice is easy.  The 3.6L V6 is the only engine that is mated with a manual.  The 3.6L V6 is an excellent engine.  It's equipped with stop/start technology and is proven tough over many generations.  This engine debuted in the Jeep lineup in the 2011 Grand Cherokee.  Millions have been produced, and they are extremely reliable.
If you're choosing an automatic, my vote is for the 2.0L I4 Turbo. (A caveat:  *Jeep says that 87 octane gasoline is satisfactory, but you will experience the best engine performance with 91 octane or higher, particularly in hot weather or under heavy load). The 2.0 is extremely responsive and fun to drive. Even though the 0-60 times are about the same as the 3.6L V6, the 2.0 makes the Jeep feel lighter and faster while driving. These engines are new in the Wrangler starting in the 2018 model year, while we haven't seen issues with reliability, if you are concerned about this, choose the V6.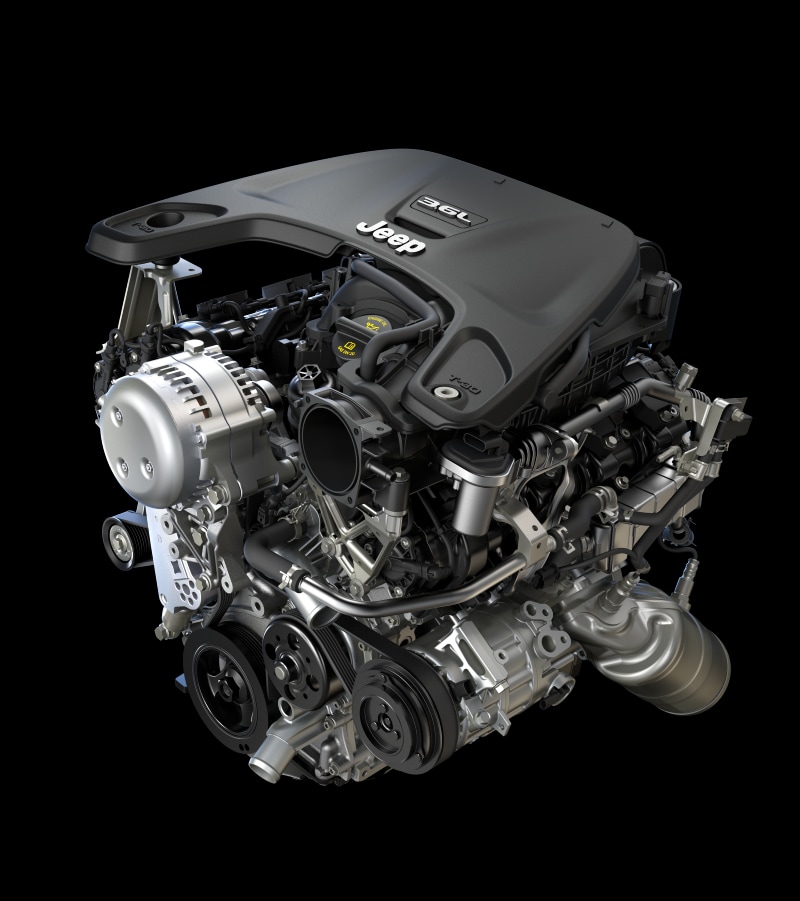 Should I Opt for an EcoDiesel?
While the staff at Planet Jeep are huge fans of the EcoDiesel because of its exceptionally smooth power delivery at low RPM's and the excellent fuel economy. The EcoDiesel significantly changes the way the Wrangler feels because of its added weight, and extreme torque.  For off-road conditions, this motor is a beast, and if it's a long way between fuel stops, it offers the longest range--over 500 miles with a one-gallon reserve.  This motor is significantly more expensive to purchase and maintain (see our analysis here).  Given that the MPG of this engine is about 20% higher significantly higher than the other engine choices (excluding 4XE), you will use less fuel with the diesel, but the higher cost of fuel and maintenance will eat up that savings.

What's the horsepower rating of the 3.6L V6 in the Jeep Wrangler: 285

What's the horsepower rating of the 2.0L Turbo in the Jeep Wrangler: 270
What's the horsepower difference between the 3.6L V6 and the 2.0L Turbo in the Jeep Wrangler: There's 15 less hp in the 2.0L turbo, 285 vs 270
Which engine is cheaper in the Jeep Wranger?  For the 2020 and 2021 model years, the 2.0L Turbo is standard in Wrangler if you want an automatic transmission.  The 3.6L V6 costs $1750 more.  If you choose a manual transmission, the only available engine is the 3.6L V6. The 3.0L Ecodiesel is $4500 more than the 2.0L Turbo automatic.

All information and pricing is approximate and subject to change. While every effort has been made to ensure we display accurate information Planet CJDR is not responsible for misprints, typographical or factual errors on the site. If questions arise please directly contact Planet CJDR who can confirm all current information and offerings. This information is copyright protected and may not be used in whole or in part without express written permission of Planet Chrysler Jeep Dodge Ram.