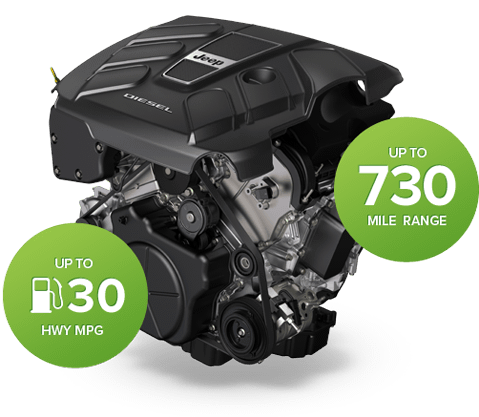 Summary
:  You can choose one of three engines for your Grand Cherokee:  3.6 liter gas V6, 5.7 liter Hemi-powered gas V8, and now a 3.0 liter V6 Eco-Diesel capable of outstanding fuel economy and stump-pulling towing ability. No black clouds of smoke or clattering engine racket with this state-of-the art power plant....it's clean, smooth, and whisper quiet. 
Specs
:
Oil change interval - 8,000 to 10,000 miles
Reduced noise, vibration and harshness (known in the industry as "NVH") so you know you're driving a luxury SUV and not a dump truck!
Lower compression contributes to a cleaner burning engine while producing more power.

Diesel Technology Today

 Old thought

Reality

 
Diesels Have Poor Performance


A diesel generates 50% more torque than a gas engine of the same size.



Diesels Are Too Loud and Smelly

 


Jeep's  technology uses high pressure direct injection so there's no rotten egg and fast food restaurant smell.  And it purrs like a kitten!  




Diesels are bad for the environment.




Jeep's new diesel is 30% more fuel efficient than gasoline counterparts and produces about 25% less carbon dioxide out of the tailpipe. Jeep's clean diesel produces 96% fewer emissions compared to the diesel engines of 1990.

Key Facts:
Today's diesel engines conserve fossil fuel resources with a 30% reduction in fuel consumption versus gasoline engines.
Diesel engines offer clean operation with up to 25% less emissions then gasoline engines.
With 50% more torque, they are fun to drive, so the Grand Cherokee feels more like a race car than a luxury SUV. 

3.0L Diesel uses Selective Catalyst Reduction with Diesel Fluid to help minimize exhaust emissions.

Powertrain:
8 speed automatic transmission keeps engine speed right in the sweet spot for power and efficiency.
Eco Mode alters powertrain performance to maximize fuel economy.
Looking for more performance?  Choose Sport Mode for peppier merging and passing.

Comparisons
   Grand Cherokee Overland 4WD             Audi Q7 AWD

  Grand Cherokee Overland 4WD                     Porsche Cayenne AWD

Grand Cherokee Overland 4WD
BMW xDrive 35D AWD
Ram 1500 3.0L V6 Turbo Eco-Diesel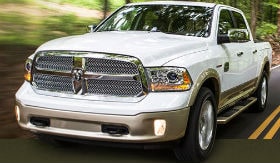 Enjoy a V6 turbo diesel engine in the Ram 1500. The years of waiting for a diesel to be an option in a light duty truck is over. Paired with the reliable  TorqueFlite 8-speed transmission, the new Eco-Diesel will offer power and economy in the same great truck.
Resource Links
"If you are shopping for a new Dodge, Chrysler, Jeep or any used car you would be well advised to check these guys out before you buy anywhere else. It was well worth the drive from the Boston area as far as I'm concerned. I can't imagine I'll be car shopping anywhere else for the foreseeable future." - P.F, Somerville, MA
Planet Chrysler Jeep Dodge Ram. 
your undealership